I'm a terrible blogger in some ways. I'm whimsical, coy, and frequently silent. I blame this on being an INF(T)P (I also love blaming perceived flaws on personality types and star signs — I'm a Pisces — because it helps me bear them philosophically). Anyway, seeing as I haven't posted in a while, I've been racking my brain for the past few weeks for something to post about. I'm extremely picky about what I feel is "worthy" of posting. It can't just be something cool I found, where I post a brief introduction and a link and am done with it; it has to be something I can explore and build on to say something about myself or my perception of the world (very INTP). I don't know why I've set this requirement for my blog, but there it is.
I was cruising Pinterest and Google images today for inspiration for a new tattoo idea I have: just a cloud, but not a cutesy one, or a cartoonish one, or an 8-bit one, or a Chinese-style one, something kind of ethereal that will still somehow work with my more classic-style blue jay tattoo. The idea was inspired by the following lines in Wendell Berry's poem "The Morning News":
What must I do
to go free?  I think I must put on
a deathlier knowledge, and prepare to die
rather than enter into the design of man's hate.
I will purge my mind of the airy claims
of church and state.  I will serve the earth
and not pretend my life could better serve.
Another morning comes with its strange cure.
The earth is news.  Though the river floods
And the spring is cold, my heart goes on,
faithful to the mystery in a cloud,
and the summer's garden continues its descent
through me, toward the ground.
I love that. If I had to name a personal living hero (and I'm not really into that; hero worship is a little dangerous), I'd probably say Wendell Berry. The line I bolded has particularly stuck with me; I think of it every time I watch the clouds drift across the blue expanse above me like a herd of diaphanous elephants. If I identify with any natural presence, it's clouds. They have tender, fleeting existences; they take various shapes throughout their "lives" as they are created and transformed by the elements and forces around them; at different points, they are benign or malignant, soothing or ominous; and when they're gone, it's only back into the earth, where they nourish life and eventually are reborn in other forms. In some ways, at least from my perspective, their mystery is our human mystery. And when I get my tattoo, and people ask me what it means, I can say with droll, stark ambiguity, "I'm faithful to the mystery in a cloud."
During this morning search for tattoo inspiration, I came across (not for the first time) the photographs of Dutch artist Berndnaut Smilde, whose surreal images of clouds within empty interior spaces have garnered a lot of attention this year. These images are not of clouds photoshopped into spaces; Smilde creates the clouds himself by misting the air and then turning on a fog machine, and an assistant takes the photo at the right time.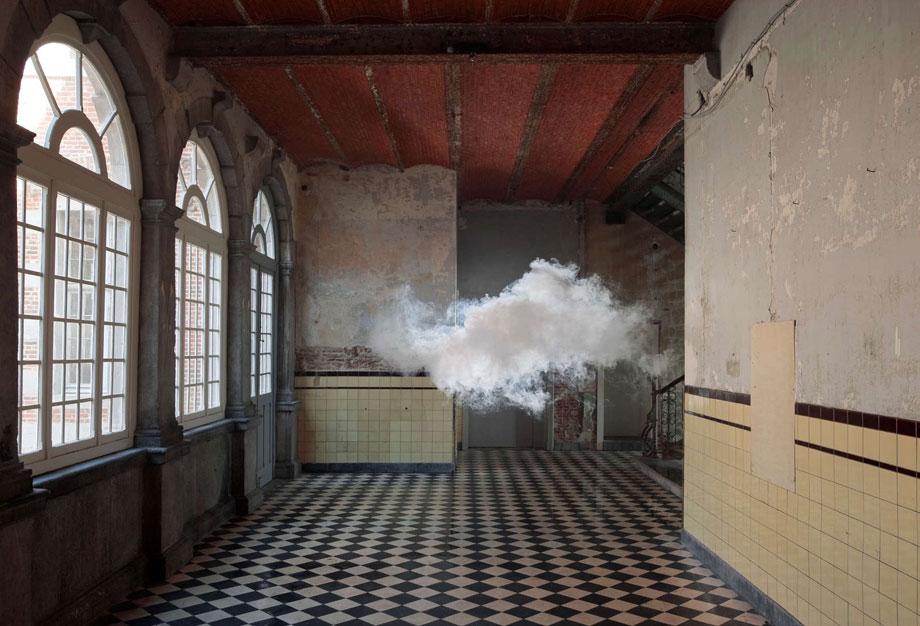 The creation of the cloud, as performance or installation art, is a statement on impermanence and the awe one feels when watching something mysterious and unique (as no two clouds are exactly alike) unfold. The photograph, however, is representative of mankind's special ability and deep desire to make the evanescent (more) eternal.
An article on Slate explains: "Smilde is interested in fleeting moments, the 'in-between situations' that are open to interpretation." Smilde himself wrote that "the cloud brings duality because you can't really grasp how to interpret the situation you are viewing. This is not so much about the shape of the cloud but rather by placing it out of its natural context; in this case the unnatural situation can be threatening."
I don't find the surreal threatening, however. I'm always drawn to the liminal and the strange. Like Emily Dickinson, I know it's my kind of art when "it makes my whole body so cold no fire can warm me." Viewing his photographs is a spiritual confirmation. It nods to a wordless truth — something about the beauty of transience, how things have power and beauty simply because they are impermanent — that is wonderful in every sense of the word.
It's like seeing a spirit in daylight.